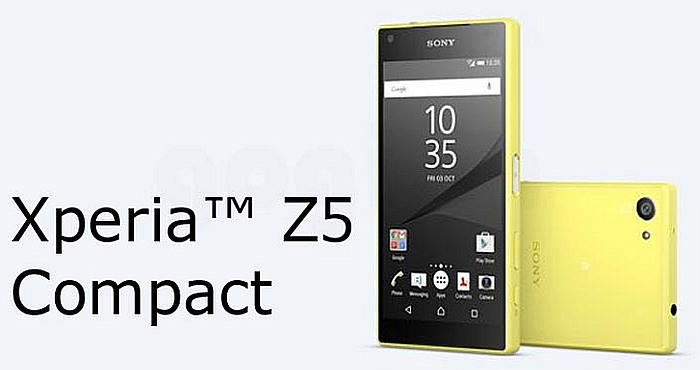 There are a lot of smartphones available today in the market, but there is at least one thing in common with most of these phones, their size. Most of these smartphones are huge in size, and most of the people will hold their giant phones in a precarious manner. So if you are in the market looking for a smartphone which you can comfortably hold in your hand without sacrificing any of the processing power, then the Sony Xperia Z5 Compact would be the right size for you.
The smartphones of today are usually pushing the envelope of the display size towards the 6-inch mark, but Sony Xperia Z5 Compact prefers to be on the compact side with a screen size of 4.6 inches. If you are worried that the compact version would be a watered-down iteration of the full-sized phone, then you need not worry. The Z5 Compact has the same top-end specs as its big brother, the Qualcomm Snapdragon 810 processor, a great 23-megapixel camera, a fingerprint scanner, a battery that will power the phone through the whole day, ability to accommodate a microSD card and a water-resistant design.
The display on the Sony Xperia Z5 Compact is 720p, which is less than the 2K and 4K displays that make their presence on the big displays of today's smartphones. But the difference is not very noticeable thanks to the small size of the display, which does not need many pixels to produce as sharp a picture. Considering the powerful processor, playing games is not a problem at all, but the small screen means that for games that rely on on-screen controls, you would find that half of the screen would be covered with your hand, making it difficult to really enjoy the game. Also if you are trying to watch a movie on this phone, the experience may not be as immersive as in a phone with a larger display. The 23-megapixel primary shooter of this phone takes decent pictures with an interface that is not too difficult to grasp and offers some excellent options like panorama mode and augmented-reality mode. The 5 megapixel front-facing camera takes great selfies in bright light, but in less-than-ideal lighting conditions, pictures may contain a lot of noise.
The Xperia Z5 Compact does not have much competition, with the horde of Android phones available today having large displays, even the budget ones. When the size is considered, the iPhone 6S is its only competitor, iPhone 6S however costing a lot more compared to the Xperia Z5 Compact.